I have a new "something" on my 30 by 30 list
: Make 30 new meals. I'm really excited about it. I can do a lil' sumn sumn in the kitchen, but I cook the same things all the time. YAWN! So I'm branching out so I can have a decent recipe repertoire.
I was watching Top Chef last week (love that show) and felt inspired to start cooking...right then. It was almost 11:00 PM, and I should have been getting ready for bed. Instead I made my own buttermilk and started a brine for fried chicken. I modified the recipe I found on
Smitten Kitchen
, which is a great blog (and she's coming out with a recipe book. Yay!) Now I've definitely made fried chicken before, but I've never soaked my chicken in buttermilk brine. I've never used buttermilk. As much as I was raised in Florida,
the city where I grew up
is more Caribbean island than Dirty South, so maybe that's why? At any rate, peep the recipe: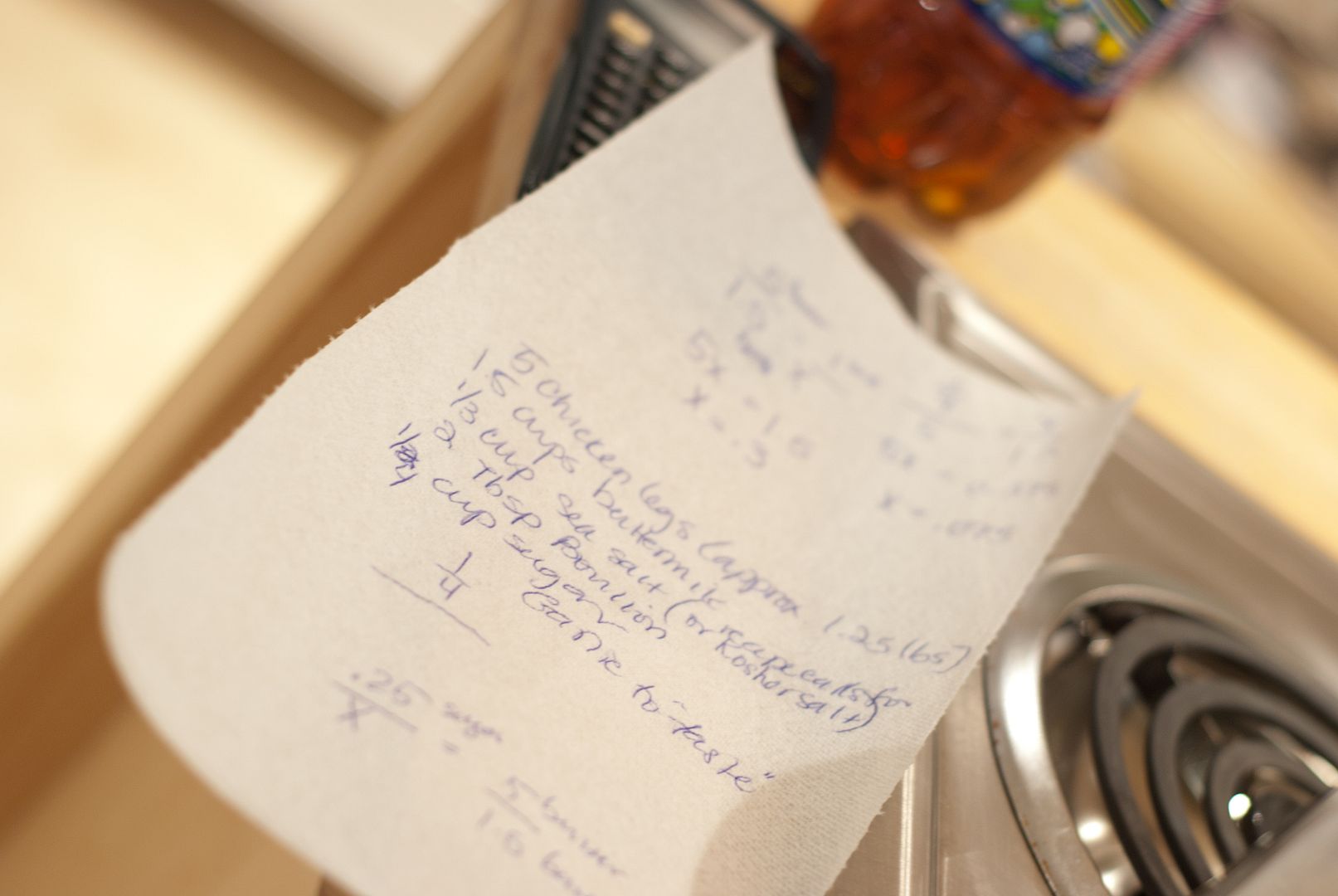 Buttermilk Fried Chicken
Brine

5 chicken legs (or approximately 1.25 lbs of other chicken pieces)
1

1/2

cups buttermilk (add 1 tbsp vinegar or lemon juice to 1 cup milk to make your own buttermilk)
1/3

cup Kosher salt (I used sea salt...that's all I had)
2 tbsp chicken bullion (the recipe calls for paprika...and that's it? Nah son...)
1/4 cup brown sugar
garlic (to taste)
Too bad I had to throw all the chicken away. It was sooooooo salty!!!!! I'd either used WAY too much salt in the brine or let the chicken soak for WAY to long. Regardless, I couldn't eat any of it. I was so disappointed. I forced down one piece because I hate wasting food, but then I realized it would suck more to die from high sodium intake.
Sigh. I think I ended up having peanut butter & jelly for dinner that night. What a disaster. The rest of the recipe was perfect, so I think I'll reduce the amount of salt and use only 1/3 of what I used (so that would be 1/9 a cup? What does that even mean?). I'll try again eventually. I haven't tried anything new since this debacle, which was a few weeks ago now. I'm literally discouraged. Bleh.
Little Miss Knight